Member Voices
Volunteer Spotlight: April Meyerink
Jill Callison, for the Greater Sioux Falls Chamber of Commerce
April 14, 2023
2 min read
A Chamber volunteer for eight years, April Meyerink said the rewards are intangible but fulfilling. "What we do is we actually give back to the community. Each individual membership doesn't seem like a whole lot but when you add in 2,000 members, we can make some big changes."
A senior business development officer with Black Hills Federal Credit Union, Meyerink currently focuses her volunteer efforts as an Ambassador, selling memberships and recruiting businesses.
"I am so passionate about it," Meyerink said. "I didn't realize how involved the Chamber was until I became a volunteer. The Chamber has a pulse on other organizations. We want to collaborate, so we have a unified front and show that Sioux Falls, we're a really great place to work, to live and to grow your business."
Even as her employer changed over the years, Meyerink continued to volunteer with the Chamber. The reason is simple, she said: Volunteers meet different people and learn from their varying opinions on matters.
The Ambassador committee has its internal goals, Meyerink said. However, as a volunteer, she has her own personal goal: keeping the Chamber top of mind. She schedules coffee dates with current or prospective members but also regularly stops at new businesses to offer congratulations and share the importance of Chamber memberships.
"It can be random acts of conversation or sometimes planned conversations," Meyerink said.
Last October, Meyerink emceed the Chamber's annual dinner and found herself standing before 1,500 people. She also recently served on a committee that vetted and hired a new Chamber staff member. That was a personal boost, Meyerink said, knowing Chamber staff and other committee members valued her input.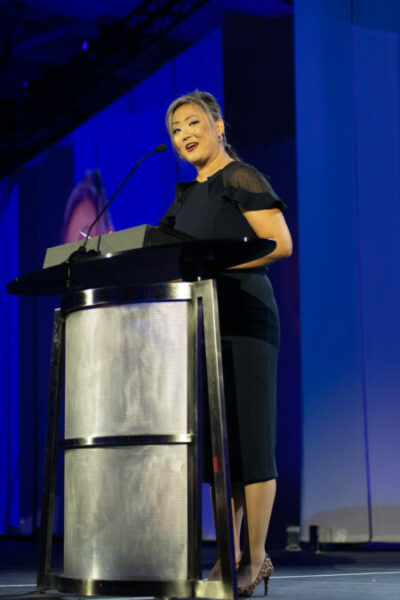 I cannot express in words or numerical data the benefits and rewards being a Chamber member and volunteer has brought me. It's immeasurable.
Meyerink volunteers on boards and advisory committees for various organizations such as the Bishop Dudley Hospitality House, Feeding South Dakota, sales and marketing activities and the Downtown Rotary Club. Like her Chamber work, they give her an intimate connection with the needs and opportunities in Sioux Falls.
Most of her volunteer hours are spent with the Chamber, however. During a week of scheduled events, Meyerink estimates that up to 20 percent is spent on Chamber activities.
"It's invaluable," Meyerink said. "I cannot express in words or numerical data the benefits and rewards being a Chamber member and volunteer has brought me. It's immeasurable. I've made lifelong friends and professional relationships. I've made really special connections."