Member Voices
Meet a member: Laura Mitchell
Jennie Doyen
September 29, 2023
6.5 min read
Meet the Event Chair of the Chamber's 117th Annual Meeting! Laura Mitchell is VP of Marketing at Lawrence & Schiller and an active community volunteer. In addition to her Annual Meeting duties, she currently serves on the boards of directors for Downtown Rotary, Bishop O'Gorman Catholic Schools, and Sioux Falls Zoo & Aquarium and campaigns for the Sioux Empire United Way. Laura and her husband, Jay, are both proud graduates of South Dakota State University. They have three young daughters, Stella (5th), Greta (3rd) and Isla (3.5 years).
1. Can you offer any hints of what is to come at this year's Chamber Annual Meeting?
I'm incredibly excited for this year's Annual Meeting. If you know Scott Lawrence, you know he loves to make an impact with the things he cares about – this event will be no different. It will be vibrant, energetic, surprising and entertaining. Plus, you'll get to hang with me as the emcee. That's all that I'll say for now…buy your tickets!
2. How did you choose your profession?
In college, one of my English assignments was to write a paper evaluating a magazine ad, which was a lot more fun than writing any other paper. I tagged along as my dad's date to Lawrence & Schiller's infamous HoHo Christmas party later that winter and met Scott Lawrence. He took a chance on me with an internship the following summer and I was hired after I graduated. L&S has allowed me an incredible opportunity to pursue different interests and find ways to use my talents, which led me from account service to digital marketing to now a leadership role.
3. What might someone be surprised to learn about you?
I've been a mascot twice – once as Jack the jackrabbit while I was an admissions ambassador in college, and once as President Lincoln of the Mount Rushmore Mascots while I was on a street team with the SD Department of Tourism. It's true – those costumes are really hot and you can't see much.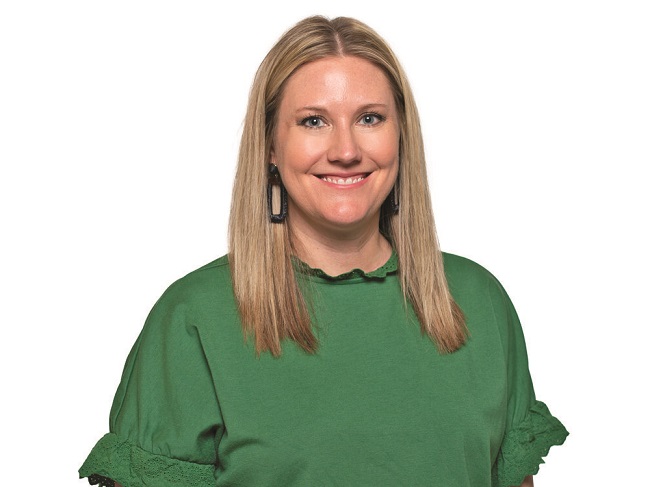 4. What is a skill that you'd like to learn and why?
I took Spanish in high school and a couple of semesters in college, but just this past month, someone asked for help finding a gate in the Dallas airport in Spanish, and I couldn't tell him that he needed to jump on the tram to get there. I want to get better at being able to communicate the basics in Spanish so I can one day help strangers in the airport but also expand relationships as our city continues to diversify.
5. Tell us something you are proud of.
My fam. My 3-year-old filled her sticker chart at daycare and got a prize. My two older girls beat their dad at basketball in the driveway last night (by a lot). Jay's an awesome leader for his bank and the best partner in life. I'm a lucky lady.
In my work world, I'm proud of the L&S team I get to work alongside every day. They're full of drive, grit, creativity and fun. Plus, they're incredibly smart and laser-focused on helping our clients reach their goals with all that we do.
6. What do you value the most in your Chamber membership?
The Chamber offers so many opportunities for businesses and their employees. My personal faves are the diverse events where I can get to know other businesses and people, and their advocacy for their members on legislative issues. I also love the connections they can help businesses make. Sioux Falls is a small world, and the Chamber fosters business and personal relationships because of the trust they've built with their members.
7. Describe your perfect day in Sioux Falls.
Good food, time with family, drinks with some friends. I love exploring new places in our city – whether that's a new restaurant, a park I haven't been to before or a new event/performance.
8. What is one community or non-profit organization that you support? Tell us about it and why it is important to you.
Jay and I support many organizations, but the two we've supported consistently over the years are Children's Home Society of South Dakota and the Sioux Empire United Way. Both organizations are rooted in helping families, children and those who need a little more support in life.
9. In your opinion, what is one of the most significant changes in our community in the last 10 years?
This is probably an obvious answer, but the growth and energy of downtown has been a major shift. The development, housing, retail and food/drink scene along with the beautification projects have really been amazing. The partnerships needed to bring this to life are incredible, and I'm really excited to see the momentum drive our next 10 years.
10. If you could witness any event of the past, present, or future, what would it be?
Taylor Swift's Eras Tour with my two older girls. I would love it, but I know they would love it more.
Bonus name drop…What are a couple of your favorite restaurants or retailers?
Morrie's, Crave, Crawfords, Mama's Ladas, Maribella's, Scheels, any and all of the downtown boutiques.