Member Voices
Volunteer Spotlight: Mychelle Garrigan
Jill Callison, for the Greater Sioux Falls Chamber of Commerce
April 14, 2023
2 min read
It's been less than a year since Mychelle Garrigan began volunteering for the Chamber, but in that time, she has found her niche on The Crew. The Crew is the Chamber's most casual volunteer opportunity but one that plays an essential role in Chamber events. Crew members are the volunteers who assist with activities such as event registration and helping with logistics such as photography. Volunteering on The Crew is a fun and flexible way to help for short periods of time that can fit into various schedules.
That suits Garrigan, who identifies herself as the "chief digital mage" at Firelink Digital Marketing, just fine.
"I'm relatively new to Sioux Falls—five years in January," she said. "I wanted to get my business name out there, meet other members and participate more in the Sioux Falls community. So, I joined the Chamber."
She began meeting other Chamber members at the monthly mixers. Each mixer has given her a chance to meet people she wouldn't usually see. That has continued with her role on The Crew. As she registers people for events, she learns their names and recognizes faces from other gatherings.
"You're doing a job, but it's fun job to do," Garrigan said.
With a schedule she describes as "crazy," helping on The Crew when she has time works out perfectly. It also gives the self-described "super-super-introvert" the perfect opportunity to stretch out of her comfort zone. She can greet people in a more casual setting rather than approaching a group of people at a mixer, Garrigan said.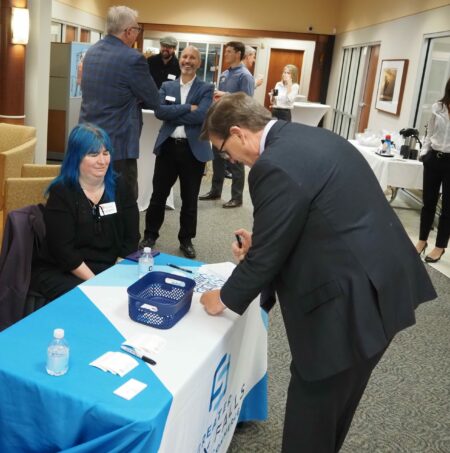 "You don't have to feel awkward and weird," she said, poking fun at herself. "You're the person at the front desk. In the short time I've been doing it people have gotten to know me."
Garrigan joined the Chamber because she saw that it offered value for her business. Soon, she realized that she also had gifts to offer the Chamber. Now, she's considering expanding her involvement to being an Ambassador or Diplomat.
"If you're trying to reach the Sioux Falls business community, the Chamber is the place to be," Garrigan said. "Large, small, medium, they are members of the Chamber."
You're doing a job, but it's fun job to do